Microsoft Viva, a Virtual Onboarding Buddy
Microsoft Viva, a Virtual Onboarding Buddy
People born under the sign of Aquarius are known to be inventive, have great integrity and have a humanitarian approach to life. I know this is true as my husband is an Aquarian, and many of my best friends are too.
Microsoft Viva was born on 4th February 2021 and is also an Aquarian, and these traits are genuinely part of Viva's human-centric personality.
Before the Viva Suite was announced during the pandemic, customers wanted to know and still do:
How to communicate better and consolidate communication tools.
How to have better meetings.
Which capabilities are being used and what tools to use when.
How to have a transparent direction.
Which features are available now in our E3 license.
How do we know we are safely working in a hybrid workplace?
A great use case of how the Microsoft Viva Suite has been developed to support all the above challenges and frustrations is the HR new hire onboarding process. This can be streamlined into an integrated, holistic experience through the lens of Microsoft Teams with a more systematic approach aligned with the M365 Admin Center and features, many at your fingertips in the E3 license. Consider:
Viva Learning: Target-specific training for new employees with videos for training.
Viva Topics: New team members can learn about popular terms, acronyms, projects and more.
Viva Insights: Help new team members spend time productively and avoid burnout once they get past the three-month probation period.
Viva Connections: Provide easy access to benefits, training materials and valuable resources when they might be working from home and do not know anyone.
Viva Engage: The social enterprise network to share news and views, realize company culture and build new relationships.
Viva Goals: For setting objectives and key results (OKRs) with your team aligned to why the company exists by your leaders.
Here, learn to apply Viva to onboard new hires, reduce erratic information overload, improve role clarity and time management, and streamline your LMS training in those challenging first three months. Microsoft Viva for the hybrid workplace: Onboarding employees who are new or changing roles | Microsoft Learn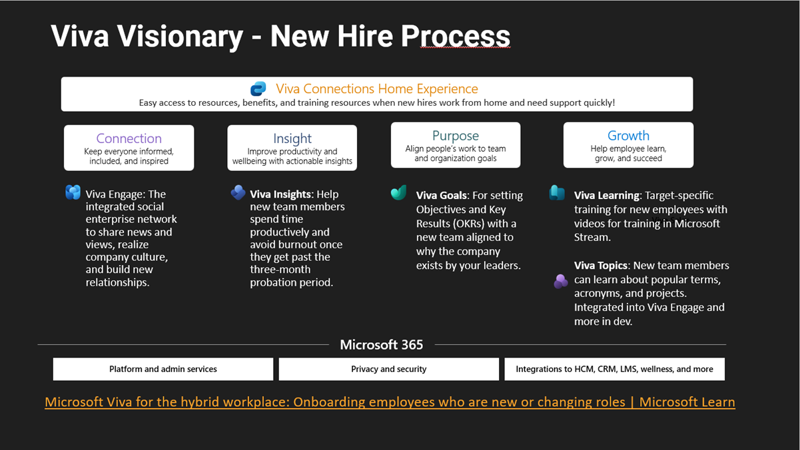 Go here to learn about Microsoft Viva's advanced security and compliance capabilities for hybrid working that are part of the Microsoft 365 and Office 365 Admin Center. Overview of security and compliance in Microsoft Viva | Microsoft Learn
And go here to learn about SharePoint look book, a SharePoint template for onboarding: SharePoint look book - New employee corporate onboarding site (microsoft.com).
Make those early months a stress-free experience where new staff can focus on the job they were hired for and not be overloaded by a myriad of unfamiliar disconnected systems, chaotic paperwork and important upskilling. Instead, they can be supported by an empathetic virtual friend called Viva, that's got their back.