Exploring the Preview Release of Microsoft Teams
Microsoft has announced the preview release of a new and improved Microsoft Teams desktop app for Windows that has already been rolled out in preview mode effective March 27th. The 280 million users, over 1900 third-party apps, as well as over 100,000 custom apps will all benefit from the new Teams desktop app that is faster, simpler, smarter, and even more flexible. In addition, for the IT pros managing the deployment and updates to the app, they will also be nicely surprised with the additional deployment and security options available in the new Teams.
Faster and Less Resource Intensive
One of the biggest changes made in the new Teams is that it has been tested to show it is twice as fast but consumes half of the system resources as compared to classic Teams, freeing up these resources for other applications running on your system. An independent benchmarking company, called GigaOm, performed a series of performance tests on the new Teams app using different machines that included a low-end, general purpose, and a high-performance laptop. The results from these tests discovered:
Installing the app up to 3X faster
Launching the app up to 2X faster
Joining a meeting up to 2X faster
Switching between chats/channels up to 1.7X faster
Consuming up to 50% less memory
Consuming up to 70% less disk space
Simplicity with New Enhancements
In addition to the optimizing enhancements to the Teams desktop app, Microsoft also added some end-user enhancements to the new Teams app, all requiring fewer mouse clicks, some of these include:
Better notification capabilities
Easier to search and locate information in Teams
Simpler to manage and organize your messages by implementing a post-and-reply experience
Redesigned and easier to manage and organize team channels
Integration of Microsoft Loop used to sync portions of collaboration content across apps
Design enhancements for stage and presenter views by adding the ability to present and view audience at the same time
Visual redesign of the app to blend into your Windows environment
Ability to add a group profile picture, and group color theme in any group chat
Avatars for Teams meetings
For more information on what is available or soon to be available in the New Teams, please visit What's New in Microsoft Teams at Enterprise Connect to view the announcements at Microsoft Connect 2023.
Smarter With the Integration of AI
The new Teams will also take advantage of the already announce AI capabilities of both intelligent recap and Copilot for Microsoft Teams. With the integration of these AI technologies, a few things you'll notice is the ability to obtain an overview of what happened prior to a meeting or chat to help you prepare for the meeting or chat, as well as AI-generated answers to your questions during a discussion.
More Flexibility Across Teams
With a lot of users having multiple accounts across multiple tenants in different organizations, Microsoft has made enhancements to improve this scenario. Some of these enhancements include:
Ability to be signed into multiple accounts at the same time
Receive real-time notifications from all teams regardless of which one currently being used
Engage with users across multiple organizations without having to leave current meeting or call
Improved IT Management Features
The ability to manage potentially thousands of Microsoft Teams Desktop app deployments can be a daunting task. With the new Microsoft Teams, admins can utilize application tools like Microsoft Intune to simplify app deployment and updates to the app. Intune supports deploying MSIX applications to client machines using the client app model, allowing admins to install, uninstall, and update apps silently or behind the scenes without user interaction, or even their knowledge it occurred.
Note: Microsoft Intune is a management solution used to manage user access, and simplify app and device management across mobile devices, desktop computers, and virtual endpoints. MSIX is used to create and manage an MSI (Microsoft Installer) package that contains all the data files and xml files to complete an installation or perform an update to an app on a client device.
Microsoft has also added advanced security measures to protect your organization by integrating Trusted Types and more stringent Content Security Policies (CSP). MSIX is also used to secure Microsoft Teams by keeping clients Windows security features current by ensuring they have the latest app version that include bug fixes and security updates.
Note: Trusted Types is an API that allows applications to lock down APIs to only accept non-spoofable deployments. CSP is a computer security standard used to prevent cross-site scripting (XSS), clickjacking, and other forms of code injection attacks.
Deploying the New Microsoft Teams
If your organization has been configured to participate in the public preview program, you will have the option to Try the new Teams by clicking the toggle switch on the top left side of the Teams desktop app (Figure 1) as highlighted in the red box below.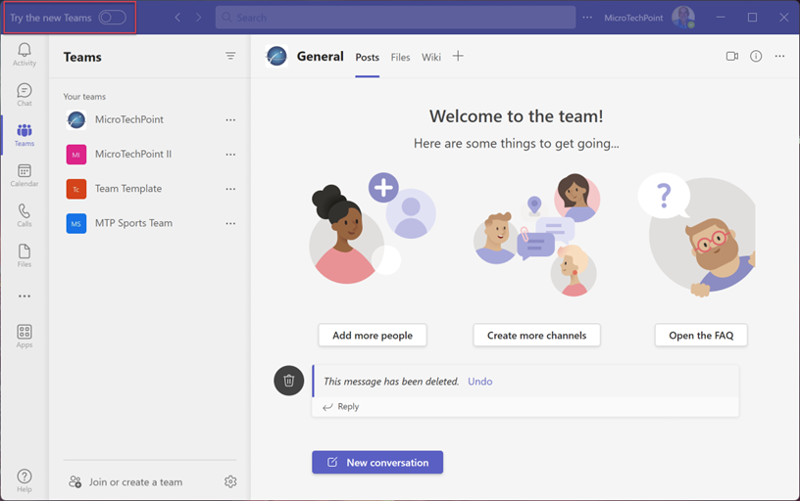 Important: If you log into your Teams desktop app and you don't see the toggle to Try the new Teams, preview hasn't been configured for your organization. You can ask your Teams administrator to enable Teams preview by following these steps:
Log into your organization's Microsoft 365 tenant.
Open Microsoft Teams admin center.
On the left side, expand the Teams option.
Click Teams update policies (most likely there is only one policy called Global (Org-wide default).
Click Global (Org-wide default) to open the update policy settings.
Using the drop-down arrow below Allow public preview, change setting to Enabled.
Then under Use new Teams client, use the drop-down arrow to select Users can choose.
Click Apply.
Teams preview mode is now enabled. However, users may have to close their Teams desktop app and reopen it to see the Try the new Teams toggle on/off option in their Teams desktop app.
After clicking the toggle to enable the new Teams app, you will be presented with a popup box (Figure 2) displaying a brief summary of what is new in the new Teams.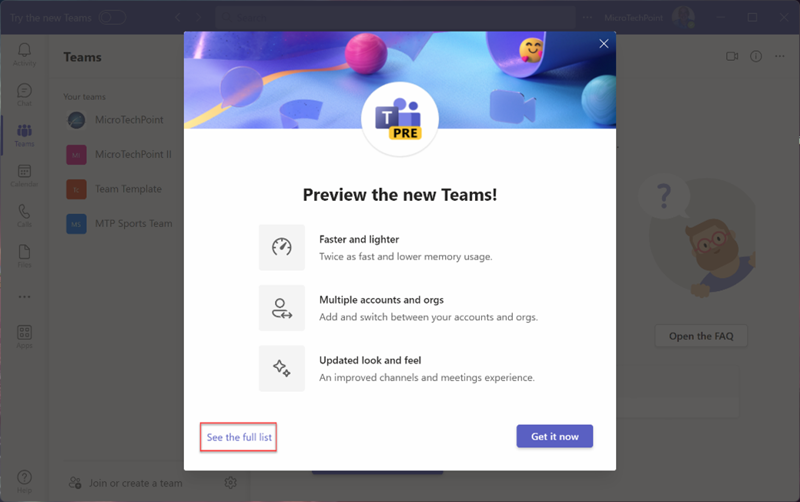 For additional details about what is currently available in the new Teams preview, and what is still being worked on, you can click See the full list shown in red box (Figure 2) to display a site displaying new and coming features, as shown in Figure 3: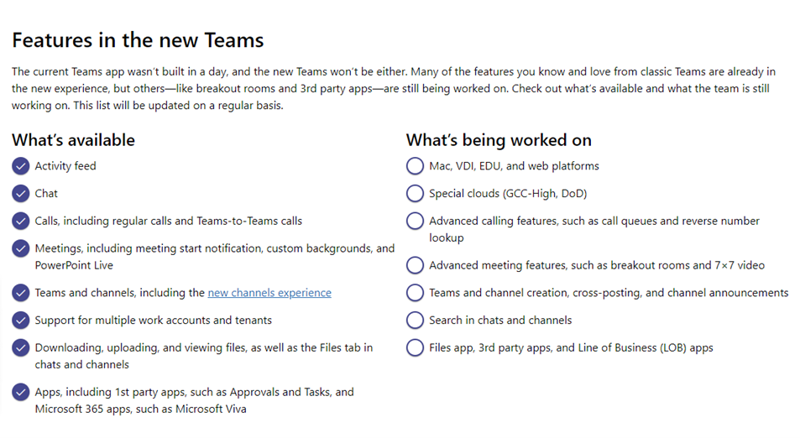 Note: This features list is a work in progress, so what you see on this page may vary depending on what has been deployed and what is still being worked on.
After enabling the new Teams app, it will download the new app, and restart Teams to display the new Teams interface. Notice in the red box on the top left side, the Teams logo has PRE (for preview) in it, and also the toggle option now allows you to revert back to the classic Teams interface by clicking the New Teams toggle button (Figure 4). The red boxes on the top right side of the screen are where you can click to view activity from accounts other than the one you're currently logged in to.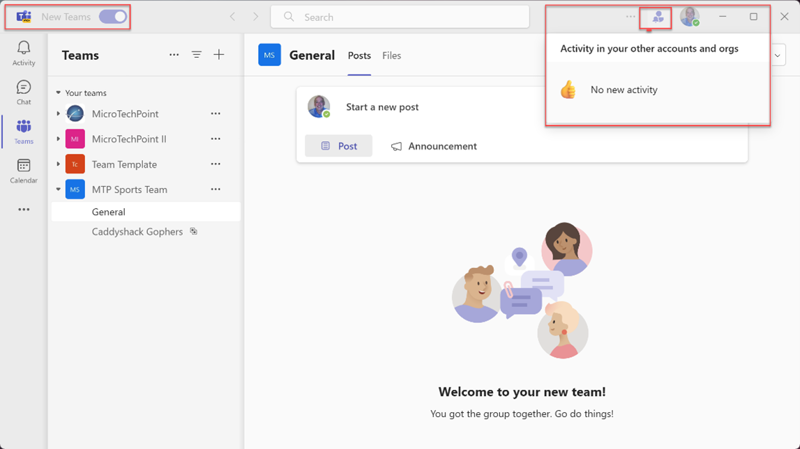 In addition to the public preview, which is already live, if you are in the Microsoft Targeted Release Program, you'll be able to access the new Teams preview sometime in mid-April of 2023. General availability for new Teams is scheduled to occur by the end of this year.
Now that we've explored what is new in the Microsoft Teams preview, I think it is important for you to review the article What's Changed or Missing in the Preview Release of Microsoft Teams, so you have a good understanding of what you can expect for behavior from the new release prior to deploying it.